A Holistic Approach to Sensitive Skin
Sensitivity is one of the most common imbalances that skin faces in our modern world. Considering the overstimulating and hectic nature of the twenty-first century, this comes as no surprise.
There are many factors that can contribute to sensitivity in the skin. Overstimulation, to be sure, but also emotional and physical stress, food-intolerances and harsh treatment methods. These are just a few of the culprits of this complex imbalance.
---
Emotions, Constitution + Personality
Did you know your conscious and unconscious emotions can play a role in the harmony — or disharmony — of your skin? If you have sensitive skin it most likely means that you are also an emotionally and energetically sensitive person.
Emotional sensitivity is a natural reaction to the world we live in. The landscape of the modern age is one that leaves us constantly bombarded with tragedy, death, and deep systematic violence. Never before in human history have our bodies and nervous systems had to deal with as much information, toxicity and stimuli as we do today. Sensitivity is an organic response, and an inevitable symptom.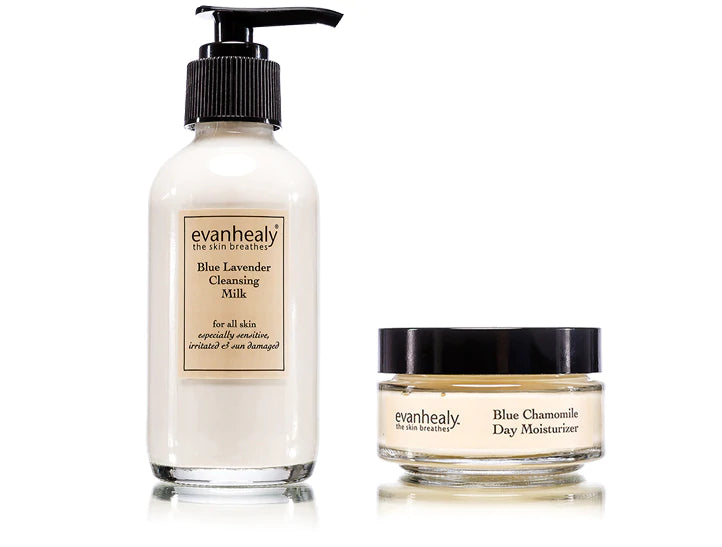 Our bodies and our skin reflect both our biological and emotional inner-worlds. Reactivity in the skin can be the physical expression of a reactive and fiery emotional state. Those with a naturally passionate and driven disposition may find that the more worked up or over-worked they get, the more irritated their skin becomes. If you notice this correlation, it can be helpful to find tools that help you 'cool' your emotions. These will be different for each person. For some, it might be meditation or yoga. For others, it might be a hike in the wilderness, or sitting down with a cup of tea and escaping into a book for a few hours. For others, it might be talking it out with a trusted friend, or journaling and processing alone.
We use flower essences in our formulas to help support emotional balance, growth and wellbeing. A custom blend of flower essences crafted in a collaboration with Evan and flower essence practitioner Alexis Smart is used in nearly all of our emulsion products. The Blue "personality" blend — designed to calm an overstimulated and reactive nervous system, lessen sensitivity and encourage adaptability — can be found in our Blue Lavender Cleansing Milk and our Blue Chamomile Day Moisturizer.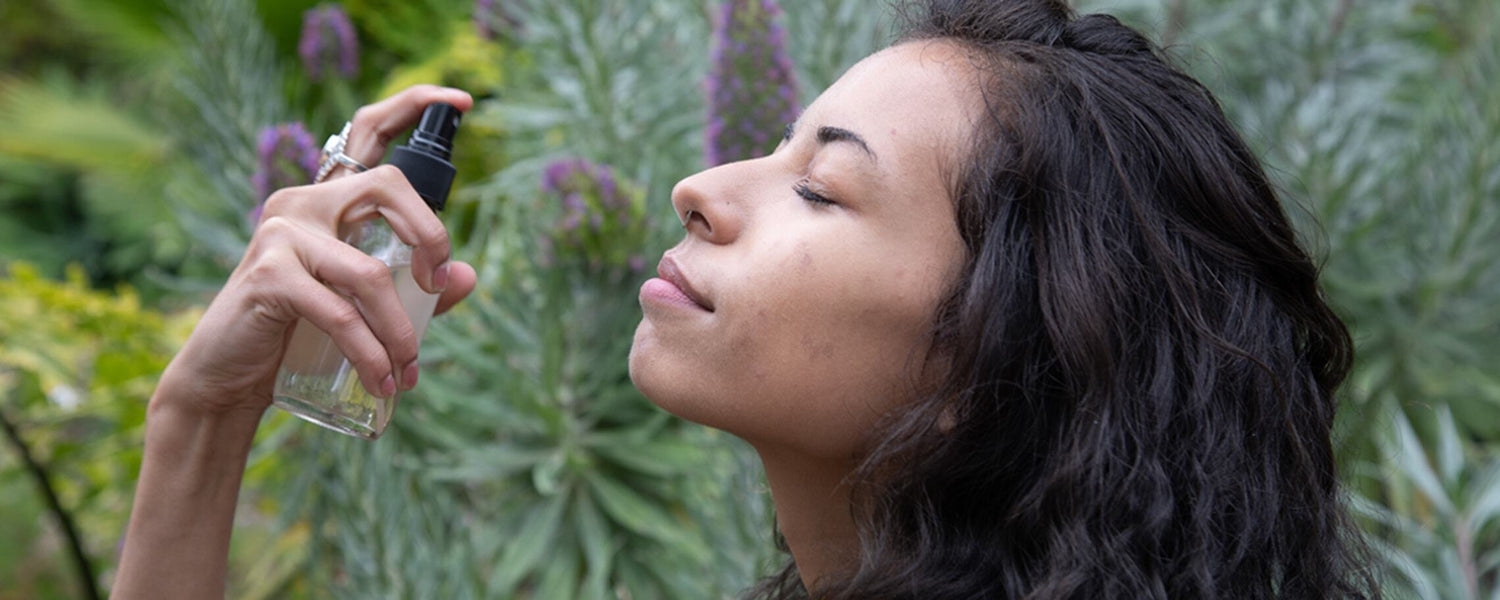 Caring for Sensitive Skin
There are two key factors in caring for sensitive skin — simplicity and consistency. Sensitive skin responds best to a minimalistic approach. When the skin is at its most reactive is when it requires the most simplicity. Consistent, gentle daily nourishment is key. Choose a few core gentle but effective products and allow them to take care of you. Nothing surprising, erratic or exploratory. The best medicine for sensitive skin is to find and sink into a personalized rhythm of self-care. The consistency of daily ritual and rhythmic repetition calms the system and in turn calms the skin.
For general daily care, all sensitive skin needs is a gentle cleanser, a cooling HydroSoul, and a cushiony cloud of comfort like a balm or butter to moisturize, nourish and protect.
Our cleanser of choice for sensitive skin is our cooling and creamy Blue Lavender Cleansing Milk. If your skin is especially reactive you may want to reserve your official cleansing for evenings alone. For morning cleansing during hyper-reactive periods, we like to cleanse with drenching saturations of HydroSoul.
Any HydroSoul can be used to gently cleanse the skin. Their gentle acidic nature supports barrier function while also gently working to soften congestion, remove debris and neutralize impurities. This technique will not remove makeup or sunscreen, so it's best used in the morning, or after days when the only things you've put on your face are oil, HydroSoul, a moisturizer, or shea butter.
To cleanse with HydroSoul — completely saturate the skin until it dews into droplets. Then gently pat dry with a soft, clean cloth.
While it's not a long-term solution for such extreme sensitivity, it's a wonderful tool to use while you address the deeper issue. If your skin is this reactive on a daily basis, it's a sign of a deeper disharmony, and you may want to work with a natural practitioner to help discover the root of the sensitivity/inflammation.
Since our butters and balms are purely lipids and contain no waxes, emulsifiers or fillers, we consider them to be on the rich end of the spectrum of our Oil Serums. Thus, we apply them the same way we do our Oil Serums — with a HydroSoul. The union of these two products supports the skin's protective hydrolipid barrier while feeding the skin with authentic moisture, hydration, antioxidants, and phytonutrients.
For daily moisture — Blue Cactus Beauty Elixir, or Blue Cactus Beauty Balm are the best allies for sensitive skin if you're looking for something light but nourishing and protective. The Elixir is light and refreshing, and the Balm is rich and cocooning; both are both antioxidant-rich, silky, and restorative, and feed the skin with a cooling canopy of botanicals and a feast of essential fatty acids and phytonutrients.
As always, your butter or balm of choice should always be paired with lots and lots of HydroSoul — Lavender HydroSoul or Immortelle HydroSoul are our favorites for sensitive skin. HydroSouls deliver cooling hydration and calming phytonutrients that soothe and refresh the skin while anchoring the lipids of your oil, butter, or balm to the skin, all while balancing the skin's pH.
If you prefer richer moisture, Whipped Shea Butter with Olive Leaf is our other favorite caretaker for sensitive skin. This unique, multifunctional product can be used to oil cleanse, as a daily moisture layer, or as a weekly restorative mask. The simple union of herbal infused oils whipped into our beloved Kpersi Village shea butter is transformative for hyper-reactive and sensitive skin. Nettle leaf, self-heal, comfrey and calendula infused olive oil nourishes, revitalizes, rejuvenates and pacifies. Vanilla infused jojoba oil lifts the spirits. And the soothing and fortifying nature of shea butter provides not only deep moisture, but also a layer of physical, environmental and energetic protection.
After cleansing, Whipped Shea Butter with Olive Leaf or Blue Cactus Beauty Balm can be paired with your choice of HydroSoul to act as your twice daily moisture/hydration step. Weekly, Whipped Shea can be used as a calming moisture mask.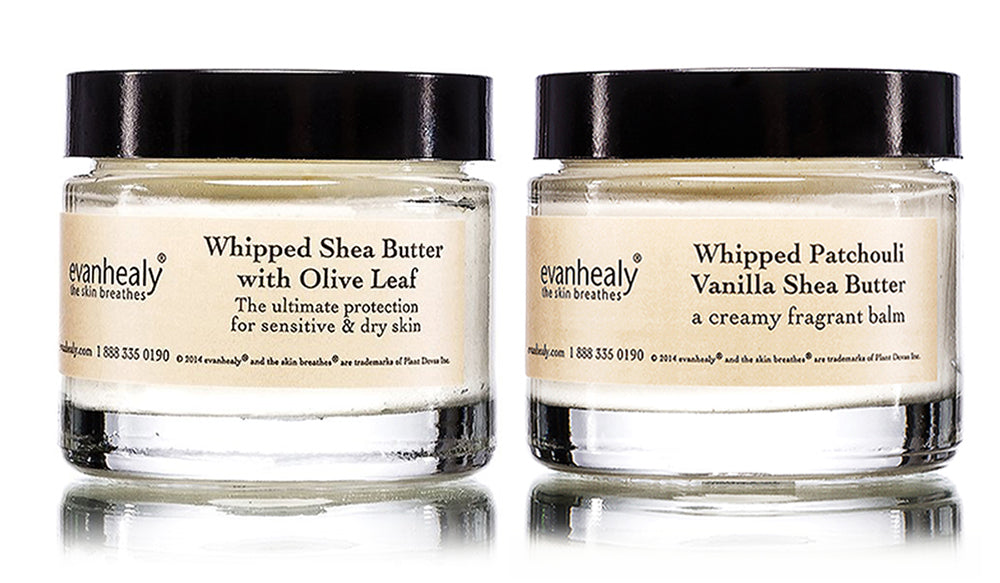 SEE FULL COLLECTION
Here's how:
Massage two fingertips worth of Whipped Shea Butter with Olive Leaf, Whipped Patchouli Vanilla Shea Butter or any of our Whipped Body Butters into clean skin. You can rest for a moment to let the Whipped Shea cocoon your skin, but it's not necessary.
Take a warm, damp washcloth and lay it over your face, pressing into your cheeks, forehead, and chin. Remove cloth as it cools down, rewet with hot water, wring it out and repeat the steaming process as many times as you need to until all the Whipped Shea Butter has absorbed into the skin. This usually requires about three or four rounds of steaming.
Once you've finished steaming in the shea, assess your skin to determine how to finish your ritual. Does your skin want a simple misting of HydroSoul? Does it want a little Oil Serum with the HydroSoul? Does it want a little bit more Whipped Shea as a final seal of moisture? Use your senses and intuition to choose what is right for you in the moment.
A Simple Daily Ritual for Sensitive Skin
A few additional tips for the care of sensitive skin: Wash and rinse with warm — not hot — water. If skin feels reactive through the day, we like to carry a 1oz HydroSoul for a midday mist to calm and soothe irritation. Close your eyes, and inhale as you mist. Then gently press into skin.
*Our dietary & nutritional tips are not regulated by the FDA, and we trust that you will take your own dietary limitations, preferences, allergies, and sensitivities into consideration. Please work with your doctor or nutritionist to discover what's right for your lifestyle and body.
---