Whipped Blue Cactus Body Butter
Cooling, cocooning body moisturizer
Regular price
Sale price
$41.50
Unit price
per
Whipped Blue Cactus Body Butter
Cooling, cocooning body moisturizer
Regular price
Sale price
$41.50
Unit price
per
Rich and nourishing mousse-like moisture cream for body and face
Sumptuous shea butter, whipped with herbaceous and cooling blue tansy & antioxidant-rich prickly pear seed oil
A refreshing, calming, botanical feast for all skin
Anointed in Peace. Fresh, cooling, serene. Nourish, soften, and perfume. Lipid-rich sunflower and sesame, harmonizing jojoba, and antioxidant and vitamin E-rich prickly pear seed oil are the foundation for this silky, soothing oil. Into this nurturing and revitalizing base we weave essential oils of refreshing & calming blue tansy, sacred sandalwood, and sweet, sensuous & intoxicating ylang ylang blossoms in full bloom. This resplendent feast of botanicals work in perfect synergy to make skin soft, supple, and serenely radiant.
Ingredients

Prickly Pear Seed Oil: Vitamin E, antioxidants, linoleic acid. Nourishes and calms dry, devitalized & sensitive skin.

Blue Tansy: High levels of chamazulene. Calming and soothing to the skin.

Shea Butter: Cinnamic, linoleic, oleic, palmitic & stearic acids . Soothes, nourishes, moisturizing & prevents trans epidermal water loss.

Whipped Blue Cactus Body Butter Full Ingredients List

Shea (Butyrospermum parkii) Butter*, Sunflower (Helianthus annuus) Seed Oil*, Sesame (Sesamum indicum) Seed Oil*, Jojoba (Simmondsia chinensis) Seed Oil*, Prickly Pear (Opuntia ficus-indica) Seed Oil*, Tansy (Tanacetum annuum) Flower Oil*, Sandalwood (Santalum paniculatum) Oil*, Ylang Ylang (Cananga odorata) Flower Oil*

* ORGANIC

Beyond Purity

paraben free

GMO free

vegan

gluten free
Shipping & Returns

US & US Territories: Free shipping on orders over $50
International: Flat rate shipping $60
Canada: View rates
Free 45-day returns on all orders.

Visit our shipping page for full details.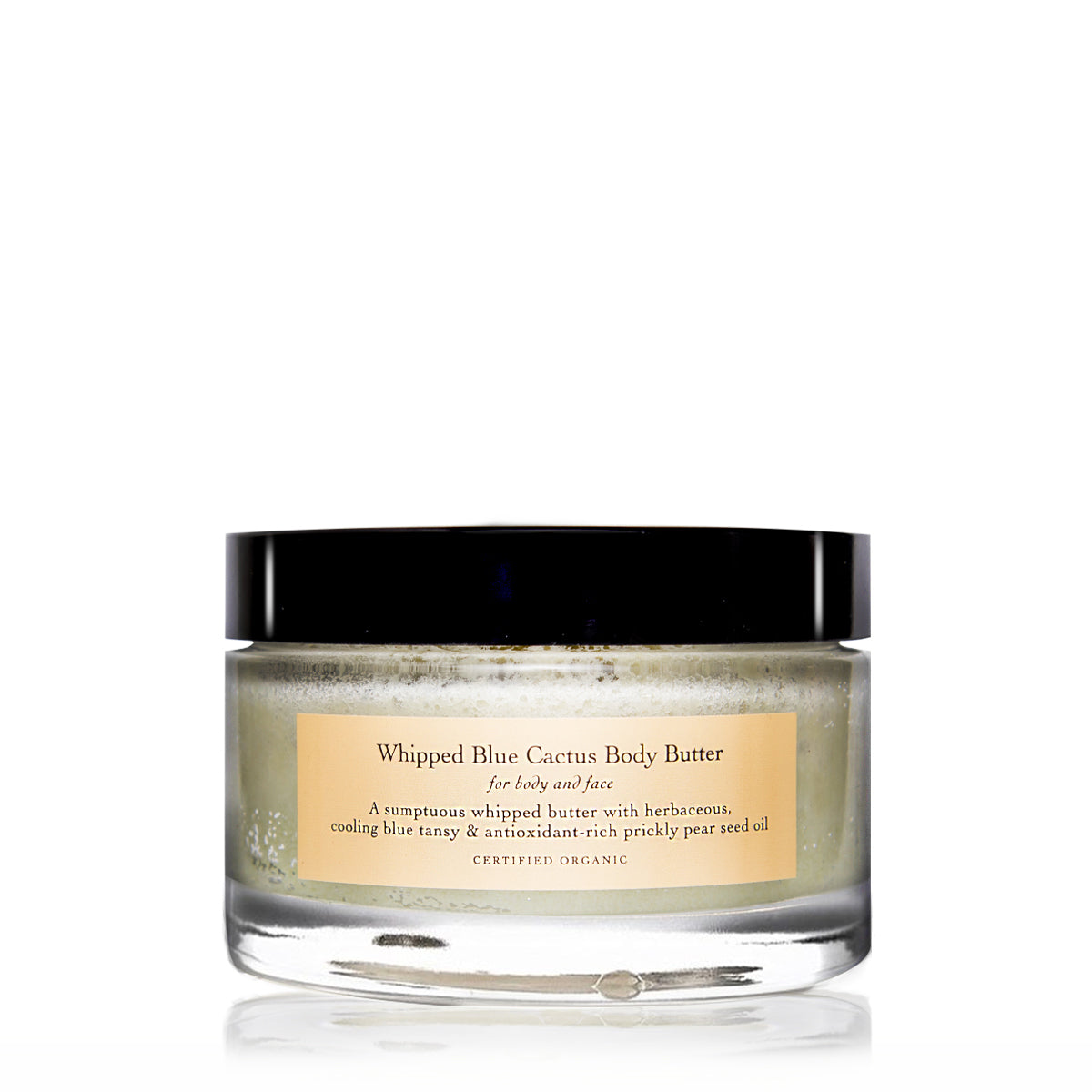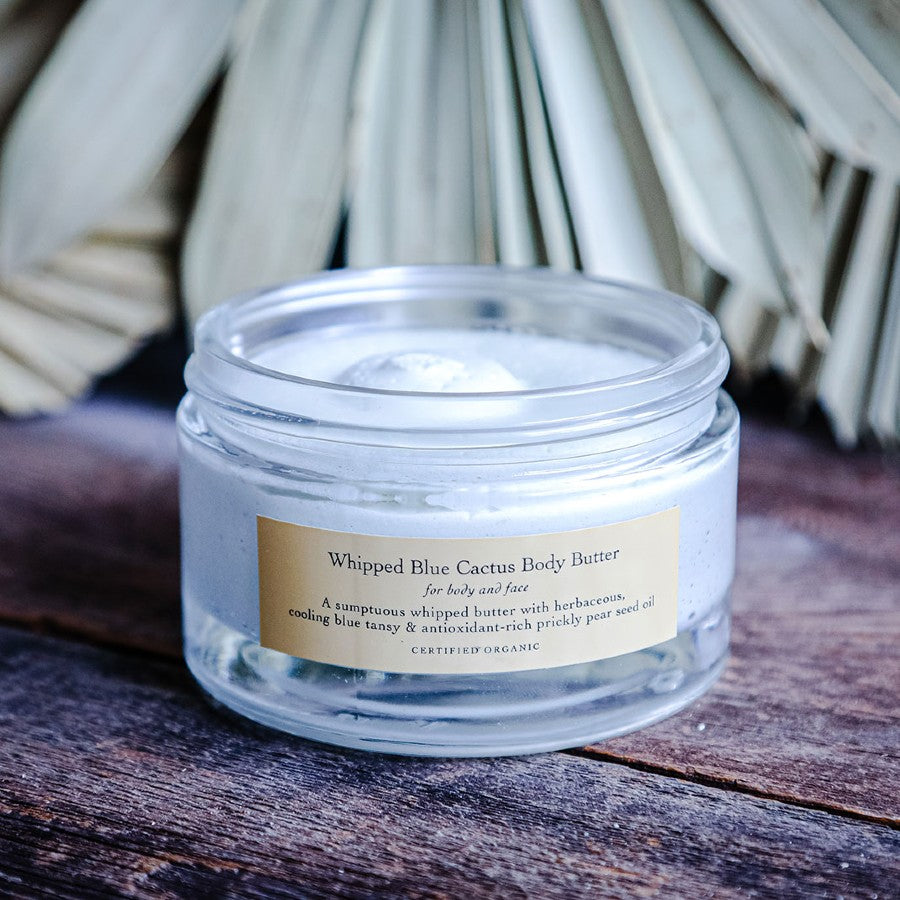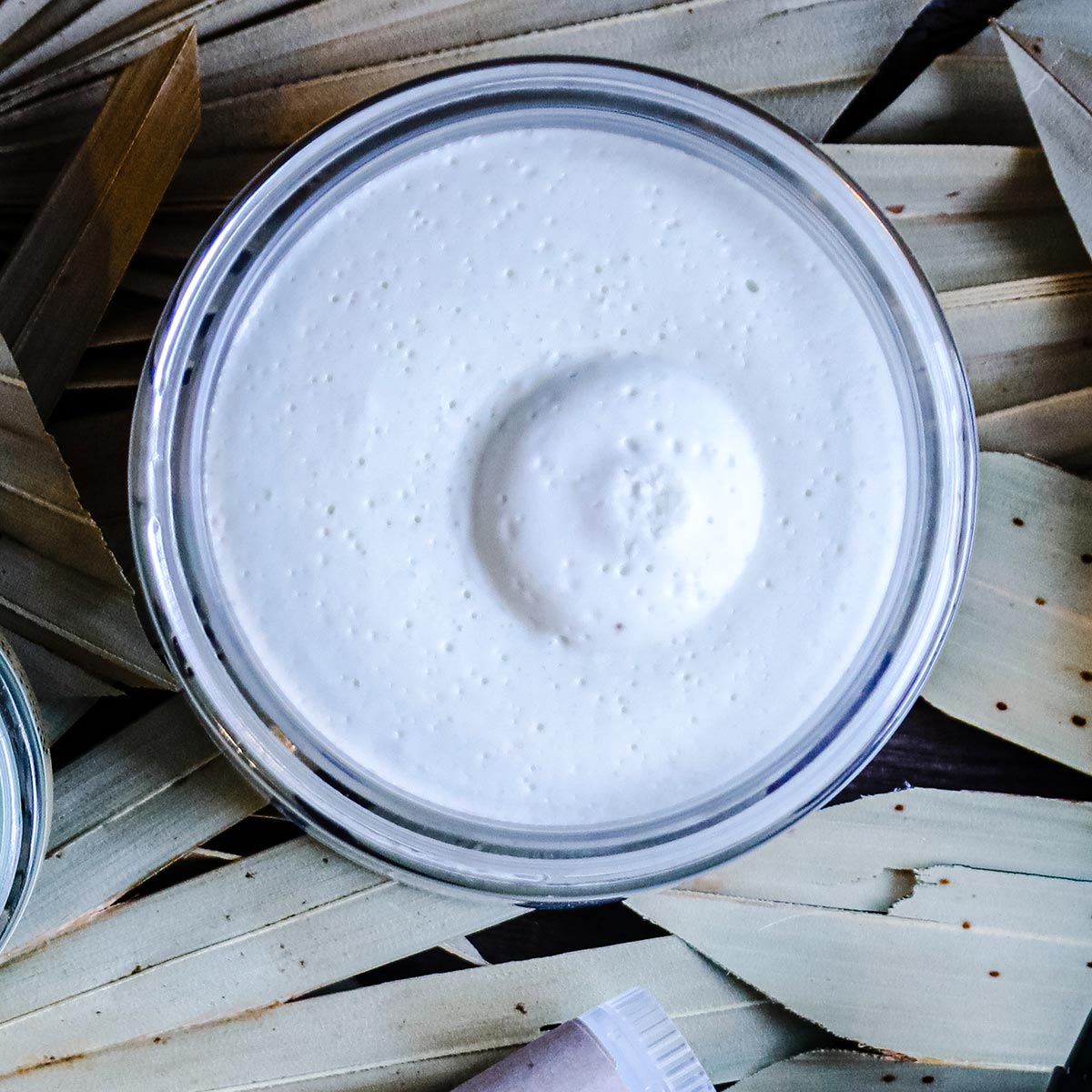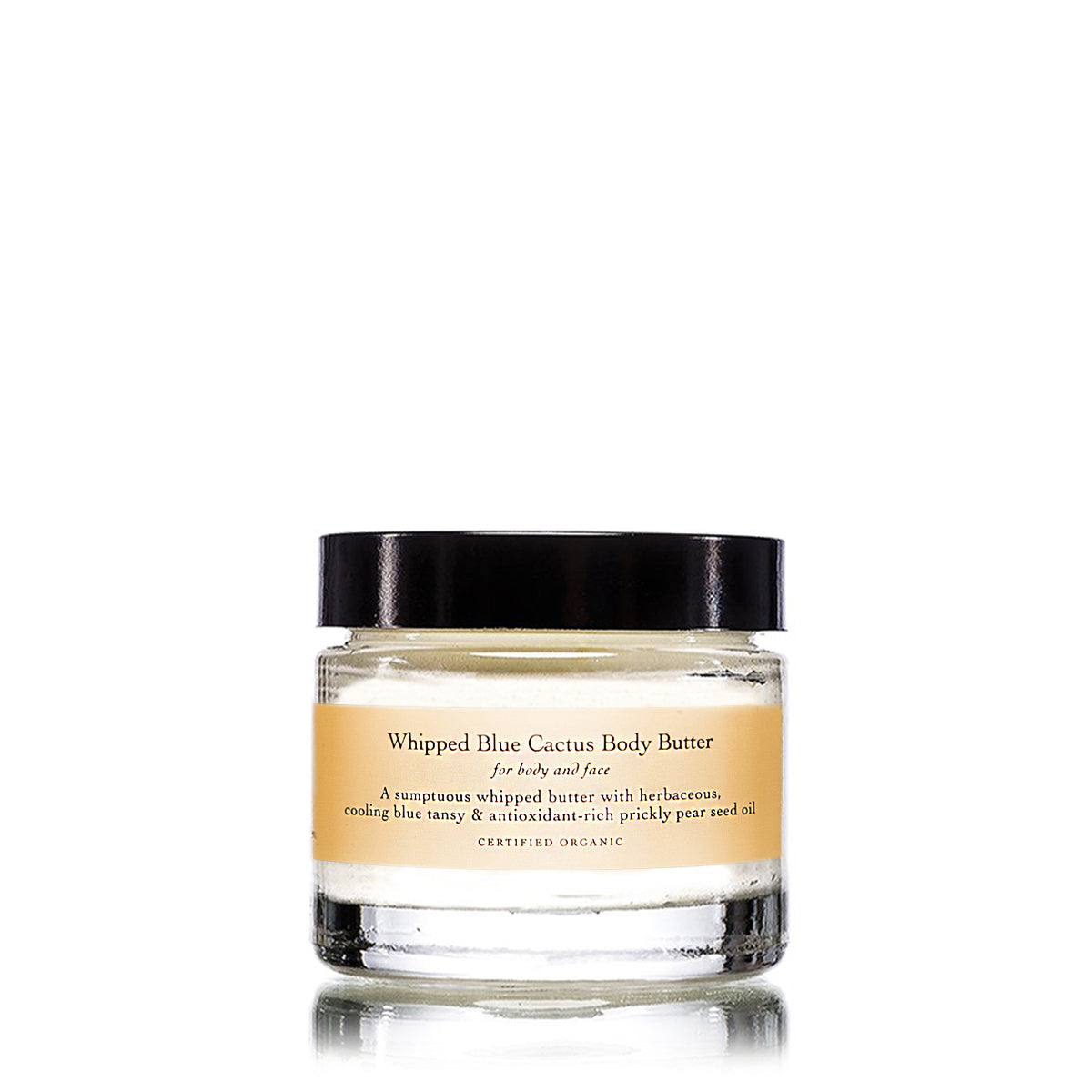 How to use our Whipped Blue Cactus Body Butter
Instructions:
For face, melt a small amount in the palms of your hands and then gently massage into skin still damp from HydroSoul misting. For body, massage into skin still damp after shower. To use as a mask, massage a larger amount into the skin, let sit for ten minutes, and then steam into skin with a warm washcloth, repeating until completely absorbed. Finish wish a misting of HydroSoul, and a little extra Butter if needed.
Customer reviews for
Whipped Blue Cactus Body Butter
Whipped Blue Cactus Body Butter is a silky, cooling moisture drench for all skin. with refreshing blue tansy, sacred sandalwood & sweet, sensuous ylang ylang blossoms.
Total 5 star reviews: 9
Total 4 star reviews: 1
Total 3 star reviews: 0
Total 2 star reviews: 1
Total 1 star reviews: 1
83%
would recommend this product
Drew U.

Verified Buyer

I do not recommend this product

Product features

Good scent

Do you use product with a hydrosol?

Yes

Effectiveness of product for your skin

Rated 1.0 on a scale of 1 to 5

E

evanhealy

1 month ago

Hi Drew. So sorry the product wasn't up to our usual standards! Please reach out to us at [email protected] as soon as you can for a replacement. :)

To address your concern specifically, and to explain our operations – Our shea butter is a truly unrefined product that has been extracted without the use of chemicals, and we pour in small batches to ensure the highest quality when it arrives at your doorstep. As a result, small granules may occur, which should dissolve immediately when massaged into skin. Rest assured, in no way does this compromise quality, it's merely a reflection of the natural world & intensive processes we follow to deliver a clean product.

BG

Beverly G.

Verified Buyer

What is your skin type?

Sensitive

What has this product helped with?

Fine lines & wrinkles,

Sun damage,

Excessive dryness

Product features

Good scent,

Moisturizing,

Absorbs easily,

Unique,

Gentle

Do you use product with a hydrosol?

Yes

MY NIGHTLY RITUAL!

I LOVE everything about this product. I use it as my last application at night while lying in bed. The fragrance is out-of-this-world! A perfect complement to all the other products I use at night after final washing. I use the hydrosol and then this Blue Cactus Body Butter.

Effectiveness of product for your skin

Rated 5.0 on a scale of 1 to 5

LuAnn T.

Verified Buyer

What is your skin type?

Mature

What has this product helped with?

Dullness,

Fine lines & wrinkles,

Excessive dryness

Product features

Good scent,

Dramatic results,

Gentle,

Moisturizing

Do you use product with a hydrosol?

Yes

Amazing Nighttime Moisturizer

I recently tried the Whipped Blue Cactus Body Butter as I use several other evanhealy products. The label says it's safe for the face as well. I use it at night and love how this product softens my skin. I also use it on my body and feet, and the effects are amazing. I highly recommend this product. As for the face, I only use it at night, and it works excellently. The best part of using evanhealy products is the comments from my friends who can't believe I am 70 years old; they say I look so much younger! Thank you, evanhealy!

Effectiveness of product for your skin

Rated 5.0 on a scale of 1 to 5

Diane M. R.

Verified Buyer

What is your skin type?

Mature,

Dry & Dehydrated

What has this product helped with?

Excessive dryness,

Dullness

Product features

Good scent,

Fast acting,

Gentle,

Healing,

Moisturizing

Do you use product with a hydrosol?

No

Heavenly Whipped Cream

A little goes a long way. I am familiar with the weight & texture of shea butter from other products. So, I purposely used a small amount such as 1/4 - 1/2 tsp. to large areas of the body and a tad more for my heels. This takes a little extra time to absorb so, I apply only at night. Once the skin drinks it in, the outcome is soft, supple skin. It's very therapeutic to dry, cracked skin. I love the soft, earthy fragrance. I ordered the oil form for comparison.

Effectiveness of product for your skin

Rated 5.0 on a scale of 1 to 5

Alana W.

Verified Buyer

What is your skin type?

Dry & Dehydrated

What has this product helped with?

Excessive dryness,

Fine lines & wrinkles

Product features

Unique,

Gentle,

Moisturizing,

Healing

Do you use product with a hydrosol?

No

Dreamy, creamy, and so hydrating

There is something so decadent about a whipped butter that melts in your hands. I could slather this stuff all over my body and never get tired of it. A little goes a long way. My favorite way to use body butter is right out of the shower. Melt it into the hands by rubbing it together until it liquifies and just let it soak in. Truly, this has become my favorite body moisturizer. I really feel it soak in as opposed to sit on top of the skin. Great for feet and elbows too! When there is extra still on my hands, I take it all the way up my neck and face! I would never take a body butter to my face normally, but it is that good that I don't fear breakouts or clogged pores.

Effectiveness of product for your skin

Rated 5.0 on a scale of 1 to 5
Reviews Loaded
Reviews Added