Floral Trinity HydroSoul
Formerly: Heart of Summer HydroSoul
Regular price
Sale price
$31.99
Unit price
per
Floral Trinity HydroSoul
Formerly: Heart of Summer HydroSoul
Regular price
Sale price
$31.99
Unit price
per
Lemon Verbena, Rose Geranium, and Lavender hydrosol
An exquisite herbal trinity 'floral water bouquet'
Harmonizing and uplifting, ideal for devitalized, combo, & sensitive skin
A facial tonic botanical blend. The perfect hydrosol for all skin, Floral Trinity HydroSoul is a beautiful blend of three of summers most fragrant and therapeutic plants - Rose Geranium, Lavender and Lemon Verbena. Relaxing lemon verbena blends gently with the soft green leafiness of geranium with just a whisper of rosy undertones, while honey-sweet lavender is fresh and uplifting. The scent will remind you of summer's relaxed warmth and dreamy serenity, of warm fields full of butterflies and bees dancing between flowers in fragrant bloom.
The trio of hydrosols were sourced from a small, certified organic, family-owned farm in northeastern Washington. We use only fresh plant material and choose to distill for the hydrosol alone. Slowly distilled in copper over many hours and low heat result in hydrosols of incomparable quality and aroma.
Ingredients

Floral Trinity hydrosol Ingredients

Organic Lemon Verbena (Aloysia citriodora) Hydrosol*, Organic Lavender (Lavandula angustifolia) Hydrosol*, Organic Rose Geranium (Pelargonium spp.) Hydrosol*.

*ORGANIC

Beyond Purity

paraben free

GMO free

vegan

Cruelty Free

gluten free
Shipping & Returns

US & US Territories: Free shipping on orders over $50
International: Flat rate shipping $60
Canada: View rates
Free 45-day returns on all orders.

Visit our shipping page for full details.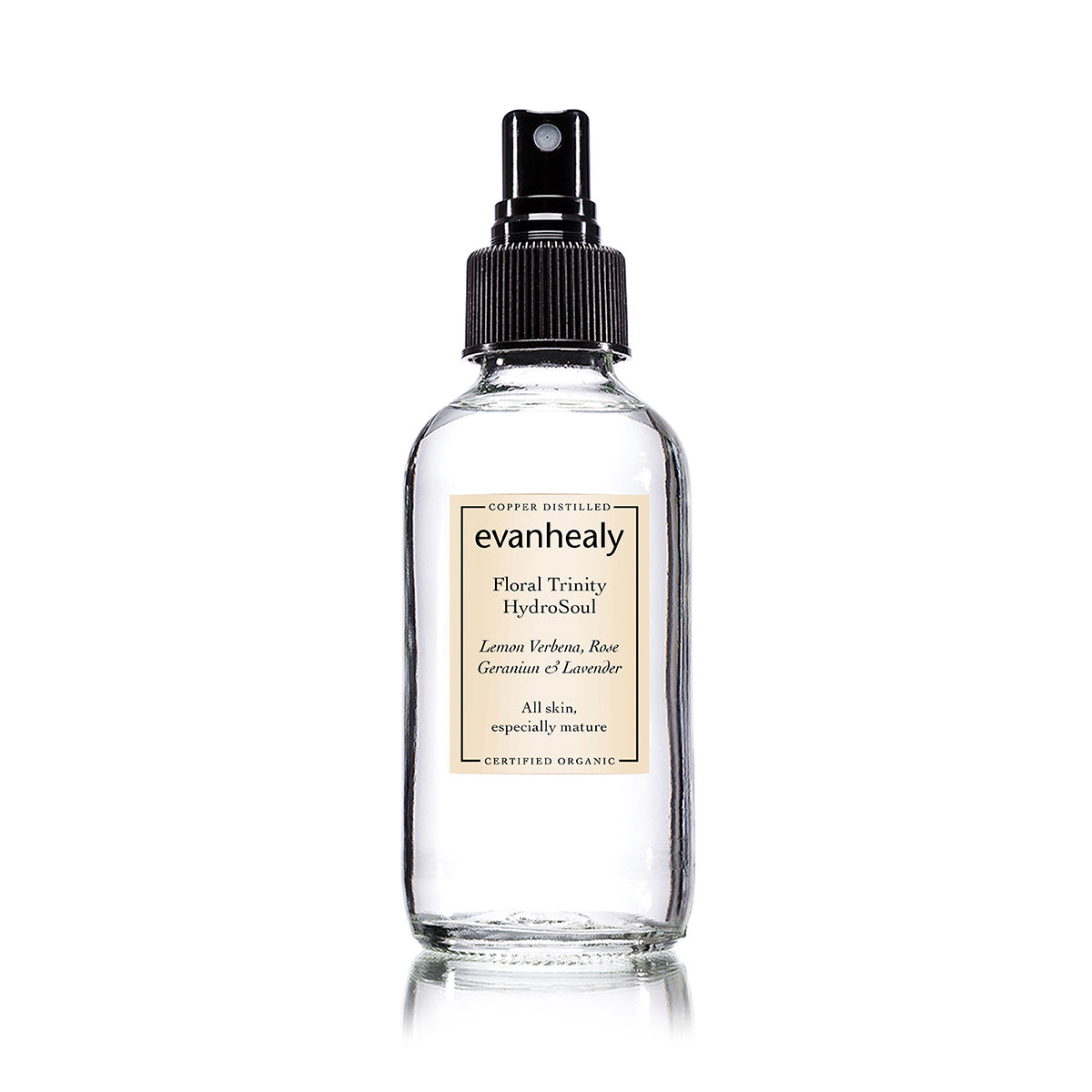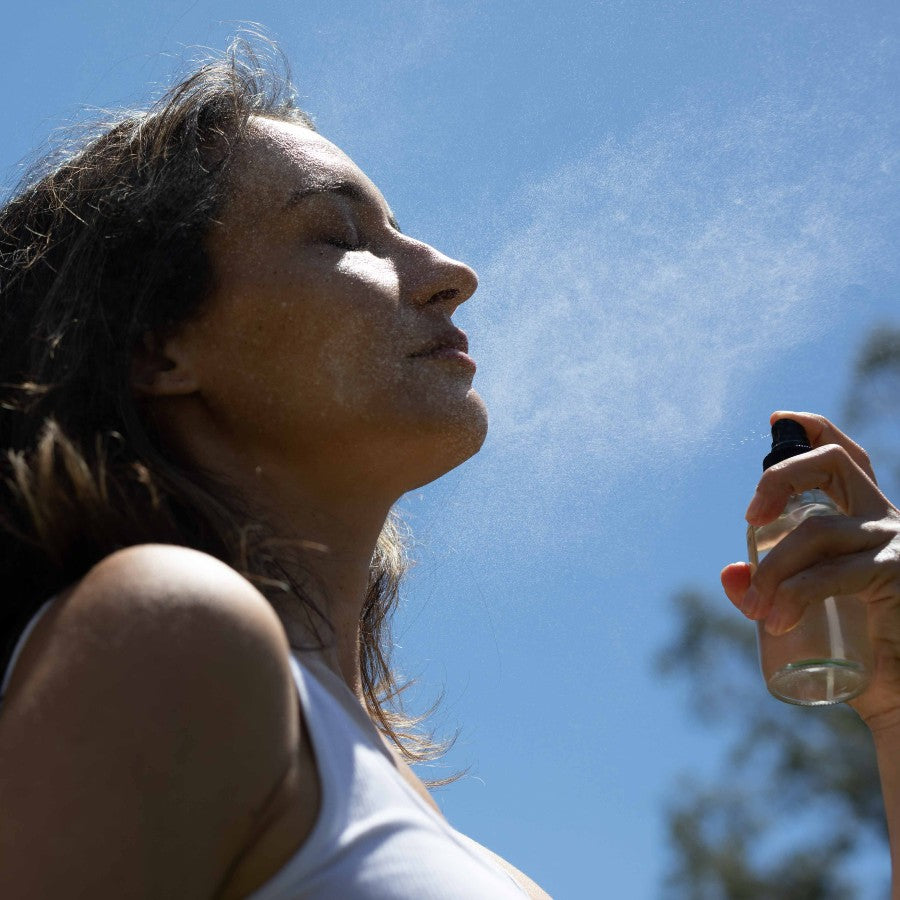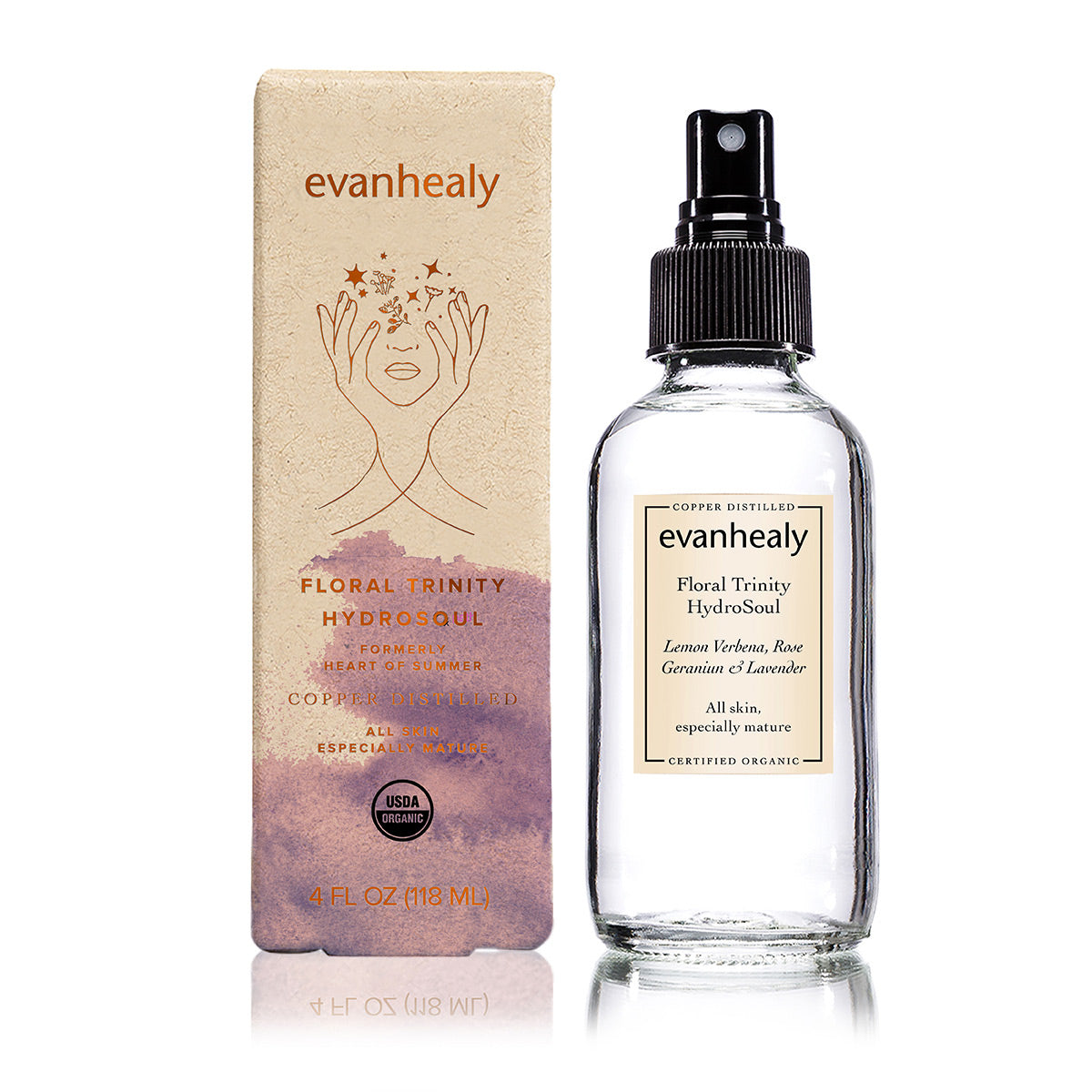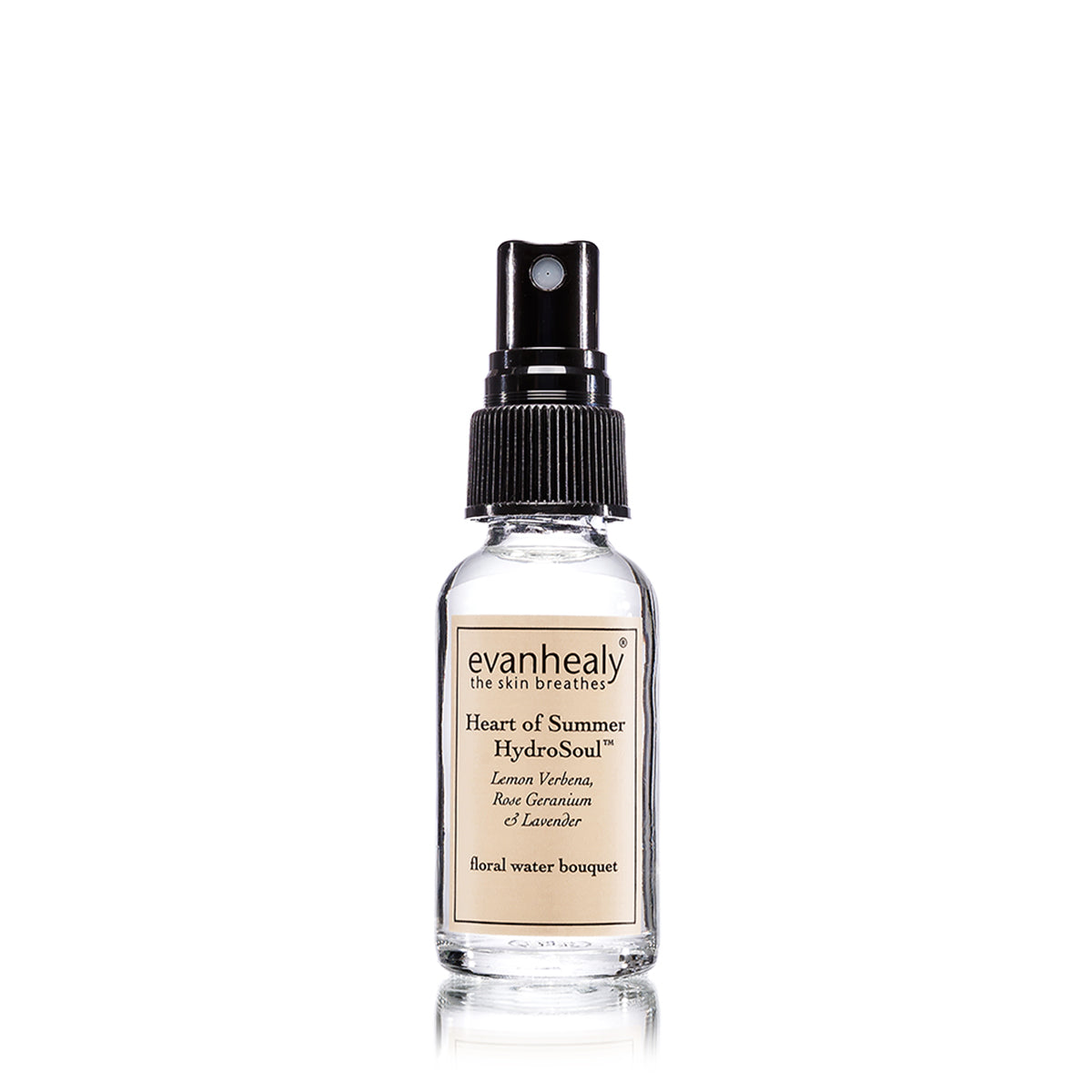 How to use our Floral Trinity hydrosol
Instructions:
For maximum hydration saturate skin with HydroSoul: five to seven full sprays. With clean hands, press completely into skin. To help restore the protective hydro-lipid balance of the skin, follow Facial Tonic with two pumps of one of our silky oil Serums: Rosehip, Argan, Neem Immortelle, or Pomegranate. For added protection, add a finger-full of one of our Day Moisturizers or Whipped Shea Butters over our Serum. Facial Tonic hydrosols can be used liberally all day long to tone, hydrate, and refresh.
Customer reviews for
Floral Trinity hydrosol
Floral Trinity hydrosol is ideal for devitalized, combo, & sensitive skin
Total 5 star reviews: 10
Total 4 star reviews: 2
Total 3 star reviews: 1
Total 2 star reviews: 0
Total 1 star reviews: 2
80%
would recommend this product
Kathleen H.

Verified Buyer

What is your skin type?

Mature,

Sensitive

What has this product helped with?

Excessive dryness,

Fine lines & wrinkles

Product features

Good scent,

Absorbs easily,

Hydrating,

Refreshing

Use intention

With oil serum/moisturizer,

Evening ritual,

Morning ritual

Floral Trinity HydroSoul

Beautiful sent works well with facial oils, blue cactus and rose hops.

Effectiveness of product for your skin

Rated 5.0 on a scale of 1 to 5

Whitney L.

Verified Buyer

What is your skin type?

Dry & Dehydrated,

Sensitive

What has this product helped with?

Redness,

Uneven skin tone,

Dullness,

Excessive dryness,

Fine lines & wrinkles

Product features

Good scent,

Absorbs easily,

Unique,

Refreshing,

Healing

Use intention

With oil serum/moisturizer,

With clay mask mixture,

Morning ritual,

Evening ritual,

Skin therapy

Dreamy

Love this hydro soul! All of these scents are just amazing together!

Effectiveness of product for your skin

Rated 4.0 on a scale of 1 to 5

Jennifer C.

Verified Buyer

What is your skin type?

Mature

What has this product helped with?

Dullness

Product features

Hydrating

Use intention

Morning ritual,

Evening ritual,

With oil serum/moisturizer

Still prefer the Rose Geranium HydroSoul

I wanted to love this fragrance--what with the rose, lavender and lemon, I thought I would get the best of everything. However, the lavender and lemon scents are so faint, and because the rose is not the main ingredient in this, it ends up not really smelling like anything. I think I will go back to the rose Hydro-Soul. I keep trying other varieties just for fun, but I always go back to the rose.

Effectiveness of product for your skin

Rated 4.0 on a scale of 1 to 5

E

evanhealy

1 month ago

Hi Jennifer. Thank you so much for your honest feedback. Scent is so subjective and we all have our favorites! If you're happy keeping the hydrosol, then we hope you find comfort knowing it exhibits the same level of purity that you would expect from rose geranium hydrosol that you adore so much. Alternatively, we'd be happy to process a return or exchange at [email protected]. :)

Danielle B.

Verified Buyer

What is your skin type?

Mature,

Sensitive,

Dry & Dehydrated

What has this product helped with?

Excessive dryness,

Dullness,

Break outs

Product features

Good scent,

Refreshing,

Hydrating,

Healing

Use intention

With oil serum/moisturizer,

Morning ritual,

Evening ritual

Heart of Summer With a Lavender Soul

I've tried a few EH's Hydrosouls over the years and while this one isn't a favorite of mine, the HOS is the most refreshing with lavender riding the top note. It was a very intuitive and uplifting choice for late winter and just what I needed for surviving the cold and damp of northern Cali. So despite the name, I will be using this HydroSoul in the cooler and darker months to remind me of summer's blooms and warmth.

Effectiveness of product for your skin

Rated 5.0 on a scale of 1 to 5

Tina Marie P.

Verified Buyer

What is your skin type?

Sensitive,

Dry & Dehydrated

What has this product helped with?

Excessive dryness,

Redness

Product features

Absorbs easily,

Good scent,

Hydrating

Use intention

With oil serum/moisturizer,

Evening ritual,

Morning ritual

Summer time

I love the scent not overpowering like some of the other mist I've used in the past . It has really helped with keeping my skin from getting dry through out the day. It absorbs easily and I love mix it with my face or body moisturizer.

Effectiveness of product for your skin

Rated 4.0 on a scale of 1 to 5
Reviews Loaded
Reviews Added